Caregiver's Corner: Transitioning to Long-Term Care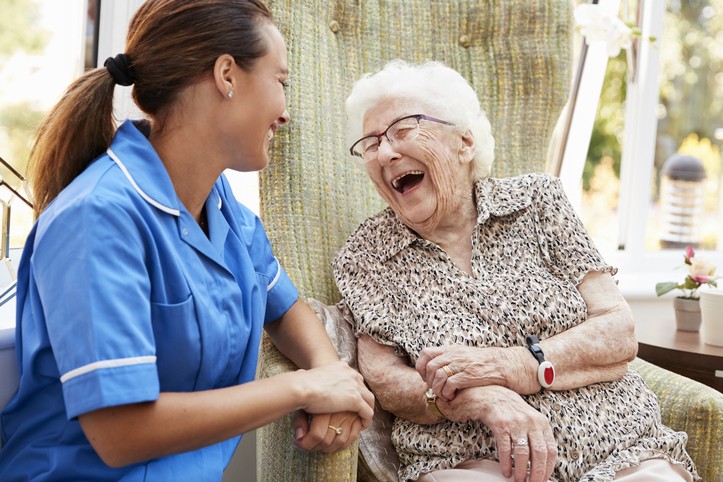 By: Stephanie Hecksel, LMSW Access Manager with the Area Agency on Aging of Western Michigan
Long-term care is not always a favorite topic for people to discuss; however, it is a topic that does arise in people's lives, sometimes planned and sometimes unexpectedly. Long-term care may be an option for individuals when they begin to need more help on a daily basis due to a disability or chronic illness. Long-term care can include a variety of services, such as personal care, medication management, meals, homemaking, and around-the-clock supervision. The type of services and the amount of care that are offered may vary from person to person, based on each individual's unique needs. Before pursuing "long-term care," it is important for individuals to have an understanding of the different kinds of care offered so they can be prepared in planning for the next situation ahead of them.
In-Home Services: When discussing long-term care, many people might initially say that they would like to remain independent and continue to reside in their own home setting. This may be an option for some individuals based on their care needs and in-home support they might be able to receive. Often times, family members, friends, and other supportive entities (such as a church community) become more involved to help. There are also home care agencies that can provide help on a private pay basis. There are also programs like MI Choice Medicaid Waiver and the PACE that are intended to meet the needs of an individual who qualifies for nursing home placement by providing in-home services. There are income and asset guidelines, level of care criteria, as well as other factors the individual is required to meet in order to participate with these long-term care programs. The programs are intended to provide services to individuals on a long-term basis, which allows the person to receive "long-term care" in his or her own home instead of moving to another setting.
Assisted Living: There are times when, even with family support and agency services in place, individuals need more help than what they are receiving in an independent setting. When this occurs, individuals might look to move into an assisted living setting. "Assisted Living" itself is a term used to describe two types of settings: Adult Foster Care homes and Homes for the Aged. These settings typically offer a customary amount of service, including: room and board, housekeeping, 24-hour supervision, medication management, and a minimal amount of personal care. Many homes have different levels of support available that help to meet specific needs. Assisted livings can be small group homes intended for just a few residents or they can be larger facilities or anything in between. Because of the variety of sizes and levels of care that are provided at assisted livings, the cost of every facility may be different based on the facility itself and the amount of care the individual may need while residing there. There are many assisted living options available and there are different resources that can assist individuals in finding a setting that will best meet their needs and preferences.
Skilled Nursing Facility/Nursing Home: Skilled nursing facilities (nursing homes) are another setting where an individual receives daily care. This setting provides the most amount of care available via a number of disciplines: nurses, nurse assistants, social workers, physical therapists, occupational therapists, dieticians, recreational therapists, and medical staff (facility physician, pharmacist, and more). Many skilled nursing facilities offer short-term rehabilitation stays and long-term care, where individuals will reside on a permanent basis if they choose. Individuals may first admit to a nursing facility following an unexpected illness or injury that resulted in a need for physical and/or occupational therapy. Sometimes individuals are able to recover and discharge to a lesser restrictive setting while other times individuals require a significant amount of care and will continue to reside in this setting indefinitely.
Overall, the idea of "long-term care" can feel overwhelming and since no two situations are alike, it is difficult to plan for the future based on someone else's experience. It is important to plan proactively in thinking about all options. What type of care is best for me? When should I prepare to move to another setting? How do my personal preferences influence settings I might consider? How can I determine what I qualify for in regards to my care needs and my finances? Who should I speak to regarding my wishes for where I reside and how my needs are met? These are just some of the many questions that arise when an individual begins to consider long-term care options.
The next Family Caregiver University class will be held on Wednesday, October 30, 2019, and will focus on Long-Term Care Options. The class will offer more information on the types of long-term care, rights and responsibilities in assisted living and skilled nursing facilities, and proactive ideas for individuals and caregivers. A panel of experts in the field will lead this discussion.
For a full list of Family Caregiver University classes provided by the Caregiver Resource Network, please call (888)456-5664 or visit www.caregiverresource.net.